President's Message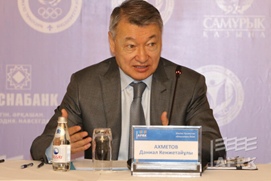 Dear Friends,
For the past few years there has been a lot of positive movements in the Athletic Federation of Kazakhstan.
In March I got the honor to be elected as President of Athletic Federation and to continue the work of my Predecessor. I am very excited about new challenges, which add a very special facet to my different engagements for sports in the Republic of Kazakhstan.
My presidential mission will cover the following highly prioritized tasks:
1. Increase the number of track and field facilities. For this purpose, we have started several infrastructural projects including constructing indoor facilities all over the country. This will enable thousands of young athletes to exercise their sport during the whole year.
2. Educational programs. We need help of international experts to level up the training and education of our coaches.
3. Grassroots competitions for kids and young athletes. Absolutely, there are a lot of young talents in Kazakhstan. Therefore, competitions for kids, which we are successfully testing out in one specific region, prove that they are very effective. We have involved more than 20 000 children to the tournament among kids, and our coaches now have much more "material" to
work with.
4. More professional competitions. This concerns not only national competitions, but also competitions for our athletes abroad. Along with that, I have mandated specialists to work out and present a proposal for an all Asia competition format.
5. Doping-free sport. No compromises: there is absolutely no room for doping in our sport. Federation will put out all its efforts to assure that any incidents which had happened to our athletes before will never happen again.
6. International cooperation. The IAAF and the Asian Athletics Association (AAA) are the largest sports institutions in the world. We suggest both our cooperation to develop projects which will benefit all sides.
7. Creation of commercial partnerships. Modern professional sports can't exist without commercialization. Federation will work to make track and field much more attractive for potential sponsors.
The above is the list of tasks which will form the development program for Kazakhstan athletics. The development program will be presented for consideration to the athletics functionaries of the Republic at the Annual Conference of the Federation.
Dear friends and colleagues! To fulfill our goals, I need the support of you all. I hope for support of all people who love sports and especially love track and field, be it as athlete, coach, official, sponsors or mothers and fathers who bring their kids to the stadium and encourage other people to be part of our development.
Thanks for your support and sympathy,
Danial Akhmetov